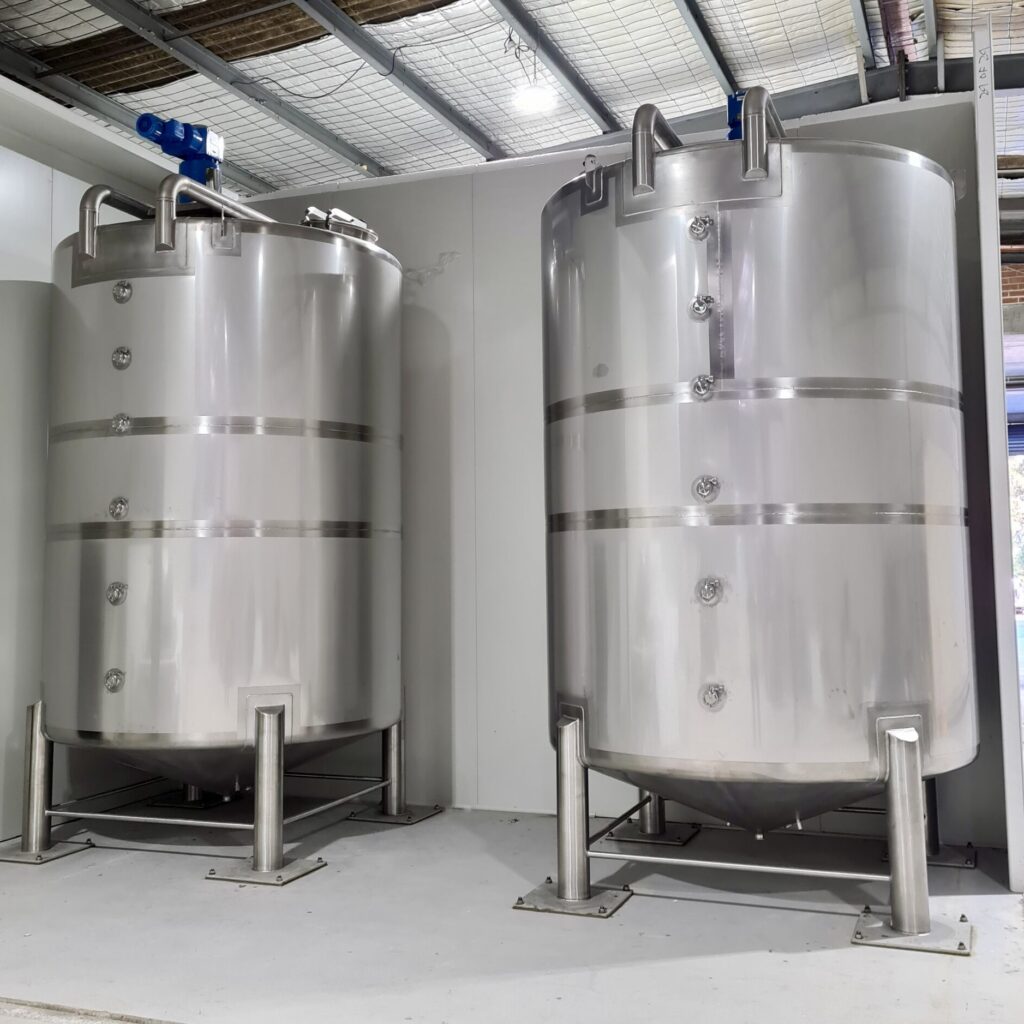 STAINLESS STEEL TANKS
Weld class engineering design and manufacture a large range of premium tanks for a number of industries.
Non-Code tanks – food and beverage, chemical, water treatment
AS1210 – pressure vessels
AS1692 – Flammable goods storage tanks
Our capability ranges from pilot scale laboratory equipment up to 100,000L storage and mixing vessels. All of our tanks are custom designed to suit the process application.
This can include mixing systems, electric and steam heating, insulation and cladding, safety vents, weighing systems, electrical controls, automation, access platforms and structures. Our team of skilled tradesman use proven welding procedures and techniques to ensure the highest quality products are delivered and will remain for decades to come.
HIGH PRESSURE VESSELS AND PIPEWORK
Weld class engineering has been mastering the art of pipe welding for well over a decade. Our skilled craftsman consistently execute 100% x-ray quality welds, which are tested to over 600 Bar. Stainless steel is our specialty although we have experience welding carbon steel, duplex 2205, super duplex 2507, 253Ma, ss316, ss304.
We utilise speciality equipment and procedures to ensure quality and efficiency
orbital automated pipe welding machine
positioners
rotators
purging systems and monitors
MANUFACTURING SYSTEMS
Weld class engineering design complete manufacturing systems to suit your application. Once process requirements are identified, our team can design a system which can be skid mounted and fully commissioned in our factory prior to delivery.
Scope of supply – Tanks, mixing systems, access platforms, structures, pumps, piping and valves, weighing systems and heating systems all with the integration of instruments and electrical controls.
previous system as shown
Hospital grade sanitizers and chemicals – Flammable goods
Access platform
3 x mixing tanks
Weighing system Pumps, valves, piping
Shampoo and conditioner manufacturing system
Access platform
2 x 2,000L contra-rotating mixing tanks
1 x 4kw high shear emulsifier
Electric heating elements
Instantaneous gas hot water feed
ELECTRIC AUTOMATION AND CONTROLS
Weld class engineering design and manufacture entire production systems incorporating automation elements including valves, pumps, flow regulators, heating elements, weighing elements and mixing elements.
CONTRACT MANUFACTURING
Your designs fabricated by us. We build your product to your specification meeting the required Australian standards. contact us to find out more